---
Iceland has quickly become a popular travel destination. The allure includes the much-photographed Blue Lagoon, and the Northern Lights has been described as one of the most scenic destinations to visit. Let's take a look at the must-do highlights and tips for your trip to Iceland.
- Top Golden Circle Stops -
Thingvellir National Park
Thingvellir National Park is an amazing site, steeped in history and folklore and surrounded by incredible geology. It has the honour of being the first of Iceland's three national parks to be established. It is also the only one that has been granted UNESCO World Heritage Site status. Considered to be the first stop on the Golden Circle, the park is located only about 45 minute's drive away from Reykjavik. The roots of both how this island formed and how its civil society was created can be found at Thingvellir. It is a place where dramatic geology meets a millennium of fascinating history and where visitors can spend hours learning about the processes of the earth and the roots of democracy.
The Geysir Geothermal Area
The second stop on the Golden Circle is the Geysir Geothermal Area, located within the Haukadalur Valley. It is approximately a fifty-minute drive from Thingvellir. En route, it is possible to see the volcanic activity of the earth grow more and more intense. Geysers are a rare natural phenomenon. Part of what makes the Golden Circle so incredible is that there is a geyser so active and reliable in such an accessible location.
The third and final stop on the Golden Circle route is one of the most spectacular waterfalls in Iceland, Gullfoss. It can be found less than ten minutes down the road from Geysir. Gullfoss is not only known for its breathtaking power but also for the rainbows that arise from its spray on a sunny day. These only add to an already beautiful sight. Other than the dramatic valley and falls, the area looks over rolling fields, right up to the magnificent ice sheet of Langjokull. Like with the springs in Thingvellir and the water at the Geysir Geothermal Area, the river that flows down Gullfoss comes from Langjokull glacier.
The Golden Circle consists of three equally stunning locations in southwest Iceland: Thingvellir National Park, the Geysir Geothermal Area, and Gullfoss Waterfall.
As the most popular tourist trail in Iceland, many different ways to see the Golden Circle have emerged. There are hundreds of different tours, from dozens of different providers, that combine your Golden Circle with extra activities or more sightseeing locations. Some tours allow you to see it in an entirely unique way, such as on a helicopter tour or under the midnight sun. It is possible to rent a car and drive from one attraction to another, in your own time without the time and itinerary restrictions that come with a guided tour. One of the perks of driving the Golden Circle yourself is that you choose when to leave and how long you'll stay.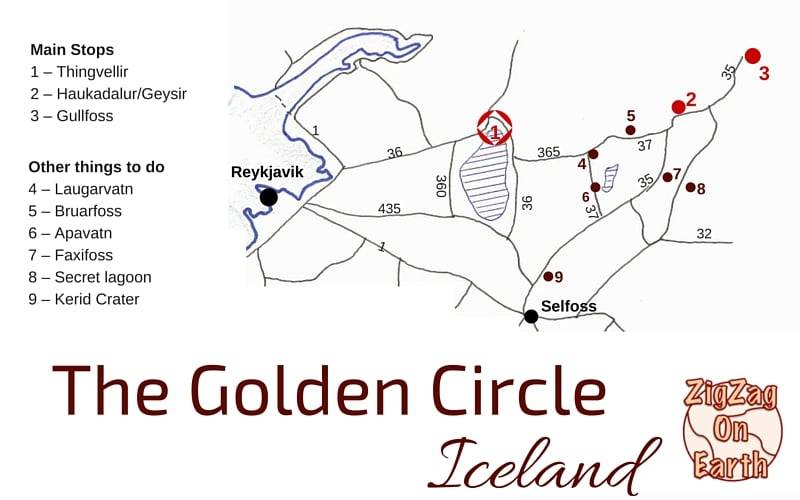 Trying to decide whether to drive in Iceland? During my research I read how dangerous it could be especially during winter so decided to book a 4WD and had no issues. Perhaps this increased our safety of driving by ensuring we had a large heavy 4WD with all the winter tyres and insurance. The main areas I remember being hectic windy was arriving in Reykjavic and then icy roads closer towards Jökulsárlón.
Fridheimar Tomato and Horse Farm
Fridheimar is a tomato, cucumber and horse farm
The Fontana Geothermal Baths is the name of a spa in the town of Laugarvatn, on the way from Thingvellir National Park to Geysir. Laugarvatn is a picturesque village, perched on the edge of a wide lake, renowned for its geothermal activity. Features of Fontana include three steam rooms and a traditional wooden Finnish sauna with fantastic views of the surrounding nature. The Fontana Geothermal Baths open out onto the lake, where it is possible to feel warm water rising from the earth between your toes.
The rocks surrounding the crater are fiery reds and oranges, with streaks of black and green running through them. These colours contrast beautifully with the azure waters.
The Secret Lagoon, or Gamla Laugin, at Fludir is a great place to relax and renew your energy after a busy day of sightseeing. The temperature of the pool is 38-40°C year-round, sustained by the water entering it from the surrounding natural hot springs.
The Secret Lagoon, or Gamla Laugin, at Fludir is a great place to relax and renew your energy after a busy day of sightseeing. The temperature of the pool is 38-40°C year-round, sustained by the water entering it from the surrounding natural hot springs.
Helgufoss and Thorufoss Waterfalls
The classic route takes you to Gulfoss waterfall, however, there are other hidden gems located close by which are well worth a visit. Two stand out options are Helgufoss waterfall and Thorufoss waterfall. To visit both waterfalls requires access to a car, as Golden Circle tours don't typically visit these off-the-beaten-track locations.
If you wish to explore some more hidden gems off-the-beaten-track, and do not mind a bit of extra driving, it only takes a couple of hours detour to Thjorsardalur Valley. Thjorsardalur Valley is considered to be part of the Southern Highlands of Iceland. It boasts a wide range of incredible natural sites. Here, you can find a wealth of beautiful waterfalls that most never get to visit, such as Haifoss, Granni and Hjalparfoss. Burfells Woods is another natural attraction, being a particularly large forest for Iceland. Thjorsardalur is, in fact, quite the botanist's paradise, with many species of wildflower, grass and moss growing in the area.
---
The Blue Lagoon
Due to its popularity the Blue Lagoon has definitely become accumulated with people, but there's always that opportunity for that clear 'instagram' moment. Definitely still one of the most beautifully man-made geo-thermal pools I've come across. If you want a more private option, opt for the 'Retreat' option.
The Northern Lights
The search for the Northern Lights in Iceland. As much as you can try to time and research seeing these lights, it can come down purely to luck. To increase your chances here's some things we found during our research. Yes Iceland is cold and going mid-winter can heighten your chances of seeing the Northern Lights when the night is darker. Be prepared to wait a few hours and drive along the night if you are doing a self-drive tour. Tips for self-drive tours of Iceland: pack lots of snacks! The food in Iceland can be expensive even grocery shopping but packing snacks for the road will definitely make the roadtrip more fun.
The Northern Lights
Best places to see the Northern Lights Öskuhlið hill in ReykjavíkGrótta lighthouse in Seltjarnarnes. The Galaxy Tower at Northern Lights Inn Hotel Frost and Fire in Hveragerði Buubble.
There are also options to join a Northern Lights Tour with experts who know when and where to go to catch the Aurora Borealis.
Iceland Volcanoes Half Day Tour from Reykjavik
Explore the city of Reykjavík! Hallgrimskirkja Church, The Perlan and The Sun Voyager are great architectural sights inspired by Icelandic traditions in Reykjavik City.
Explore things to do in Iceland
---
Jökulsárlón, Iceland's most famous glacial lagoon. From Reykjavik, it's roughly a 4.5-hour drive along the Ring Road. Definitely make sure you have hired a sturdy rental car that can withstand icy roads. I recommend using Rentalcars.com to compare best prices. A 4WD with snow tyres is recommended on the icy road.
These three reasons were definitely what made our decision to include Iceland on our Northern Hemisphere route from Australia (catch more on our USA-Iceland-Canada Trip soon!) The most important tip for traveling to Iceland – prepare and do your research!
In our instance we booked our trip 3 weeks before flying out and had to pull 3 countries worth of itineraries together (while still working around our daily lives and fulltime work) but I can definitely say it is doable if u decide to do a last-minute trip! One thing for sure is Iceland needs preparation and especially research on things including the season you are travelling, your route and activities if you are booking tours, which car rental is suitable and what to pack
An Ice Cave Tour is definitely an fascinating tour as the Ice Caves will be different every time – this is due tot he caves melting and moving (!) The one we visited apparently will be gone by mid-year in July 2019 (next 6 months). Definitely an opportunity to see some of natures phenomenons before it disappears.
Glacier hiking was also some great fun by applying crampons to be able to hike the glacier mountains (depending on the tour, crampons and hiking boots are available for hire).
Glacier Hiking
Here I've put together a quick snap of what I packed for Iceland for January after doing as much research as I could fit in (and still representing style)
Lots of thermals!
Travelling during the peak of Winter expect it to be cold and even severe wind at times. I definitely remember layering multiple thermals and still thinking I needed another layer. Thermals are also lightweight so you can pack lots and not worry too much about baggage space, especially if you are also taking large, heavy coats. Theres lots of options for thermals including long sleeve tops, leggings and even thermal socks.
Weather-proof outerwear
Expect to get wet from the ice on a trip to Iceland! This is more so if you decide to go ahead with certain activities such as Glacier Hiking or Ice Cave Tours. Some of these tours are 3 hours or longer and if you dont want to be caught out in the cold with wet jeans, then a weather-proof jacket and even ski pants would be recommended. Try to get one that incorporates windproof as this will go along way also whilst you are outdoors. Of course my sister and I like to travel light so we opted for the multiple thermal layers and a reliable jacket which got us through pretty ok – definitely we could still feel the cold but we wanted to still travel in style!
Warm accessories including reliable gloves, beanie and scarves
One thing that gets cold easily are your fingers! You'll definitely want a good pair of winter gloves when you're out and about. A little trick our tour guide said was when your body is cold overall, it will prioritize and that's why your fingers or toes will feel the cold more. He then went on to say if your toes are cold, put on a hat!
Thermal Bottle
This made all the difference during the cold and is by far the best way to warm your heart and your soul with a nice hot drink of your choice. Green tea was our go-to
European electric outlet
Ensuring you have the correct power supply to recharge your phone, camera and laptop!
Sturdy Winter Boots (Snow and/or Hiking Boots)
Especially if you are choosing to participate in any of the following tours and activities such as Glacier Hiking and Ice Cave Tours.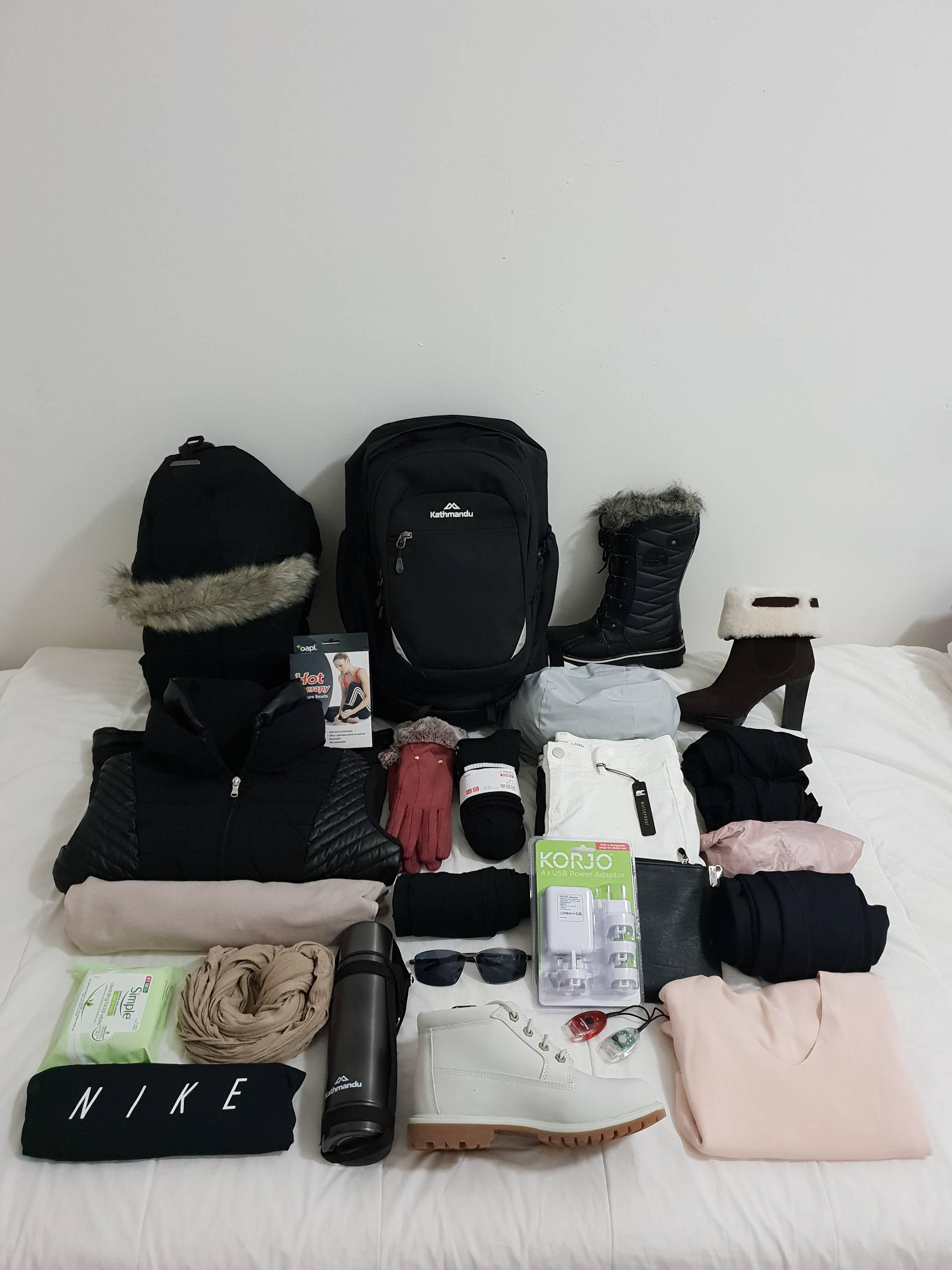 2 x Superdry snow jacket
1 x Katmandu backpack
4 x Katmandu longsleeve thermals
---
There's just something beautiful about walking in snow that nobody else has walked in